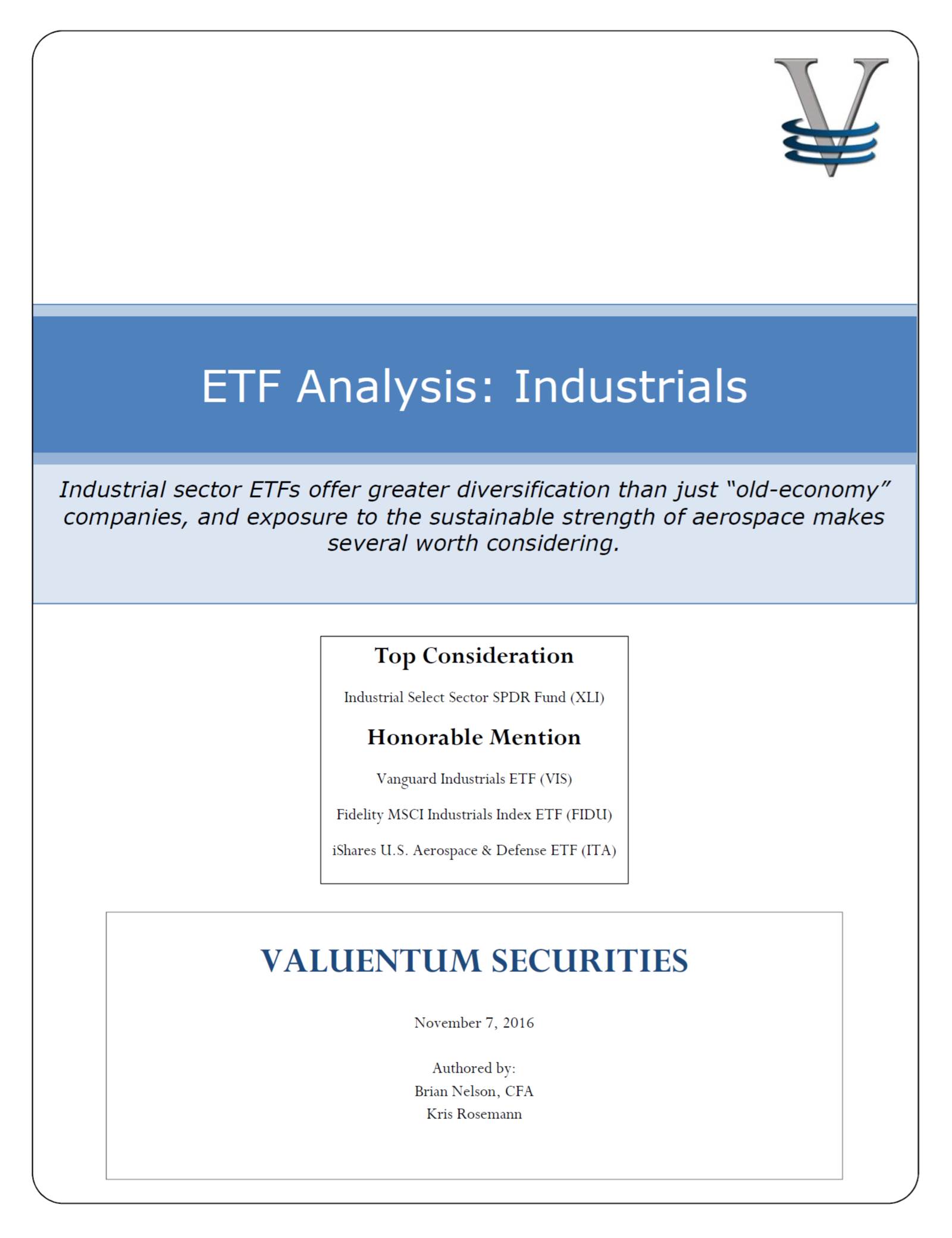 Forward-Looking ETF Reports
Thank you for your interest in Valuentum's ETF reports.
<< Access Valuentum's ETF Research Suite
Within each ETF report, we provide in-depth analysis and offer insights to help investors stay on top of key trends impacting exchange traded funds and their underlying industries, companies, and commodities. From evaluating the real estate cycle in REIT-focused ETFs to assessing the business dynamics of top holdings within consumer discretionary ETFs, for example, we focus on relevance and leave nothing important to the investment decision-making process out.
Our ETF reports and ratings are completely forward-looking and bring the data to life with easy-to-understand analytics.
The questions we seek to answer are the ones on investors' minds. For example, is an ETF's higher expense ratio worth it because the ETF overweights an underpriced company that is poised to move higher? Or in another case, is a particular ETF's dividend yield not worth the capital risks of its holdings? In yet other instances, do an ETF's top-heavy weightings make it a significantly more attractive idea than another equal-weighted ETF? Or does the concentration only increase the risks? Learn what we think of the AlphaDEX methodology and Intellidex methodology and more.
Serious ETF investors cannot do without this fresh perspective on fund analysis. Other ETF analyses only focus on comparing backward-looking and widely-available data, offering little assistance to the forward-looking portfolio construction process. The Financial Crisis taught investors that rear-view-mirror investing is, at best, hardly worth their time, and at worst, a recipe for disaster. Today's investor is demanding forward-looking analysis and research.
In each report, we assess ETFs in terms of valuation, timeliness, and cost of ownership. On a high level, we think the best exchange traded funds will have low or reasonable expense ratios, holdings that are collectively underpriced, and bullish technical and momentum indicators. On a deeper level, we assess the trade-offs between an ETF's valuation, its timeliness, and cost of ownership, weighing each consideration carefully before highlighting our top picks for a given ETF theme.
In addition to ETF analysis, with a subscription to the website, you gain access to all of our in-depth stock and dividend reports, premium commentary on the site, receive Best Ideas Newsletter and Dividend Growth Newsletter in your inbox every month (including email notifications), and have access to our analyst team. If you are new to the site, please be sure to also access our stock research (click here) and dividend research (click here) as part of your membership.
Our stock and dividend reports together can provide a unique picture of each firm's investment potential, from value through income through momentum strategies and beyond.
<< Access Valuentum's ETF Research Suite
<< Become a Valuentum Subscriber Today!
--------------------------------------------------
About Our Name
But how, you will ask, does one decide what [stocks are] "attractive"? Most analysts feel they must choose between two approaches customarily thought to be in opposition: "value" and "growth,"...We view that as fuzzy thinking...Growth is always a component of value [and] the very term "value investing" is redundant.
-- Warren Buffett, Berkshire Hathaway annual report, 1992
At Valuentum, we take Buffett's thoughts one step further. We think the best opportunities arise from an understanding of a variety of investing disciplines in order to identify the most attractive stocks at any given time. Valuentum therefore analyzes each stock across a wide spectrum of philosophies, from deep value through momentum investing. And a combination of the two approaches found on each side of the spectrum (value/momentum) in a name couldn't be more representative of what our analysts do here; hence, we're called Valuentum.
--------------------------------------------------
Valuentum has developed a user-friendly, discounted cash-flow model that you can use to value any operating company that you wish. Click here to buy this individual-investor-friendly model now! It could be the best investment you make.
--------------------------------------------------
The High Yield Dividend Newsletter, Best Ideas Newsletter, Dividend Growth Newsletter, Nelson Exclusive publication, and any reports and content found on this website are for information purposes only and should not be considered a solicitation to buy or sell any security. Valuentum is not responsible for any errors or omissions or for results obtained from the use of its newsletters, reports, commentary, or publications and accepts no liability for how readers may choose to utilize the content. Valuentum is not a money manager, is not a registered investment advisor, and does not offer brokerage or investment banking services. The sources of the data used on this website and reports are believed by Valuentum to be reliable, but the data's accuracy, completeness or interpretation cannot be guaranteed. Valuentum, its employees, independent contractors and affiliates may have long, short or derivative positions in the securities mentioned on this website.